February 20, 2022"I'm a contemporary architect, so I want crisp, clean lines," says Sally Mackereth. Yet the joists in the living room of her main home, near London's King's Cross, are supported by 19th-century cast-iron columns, complete with ornate capitals, reclaimed from the semi-derelict Victorian stables that originally stood on the site. And the newly built whitewashed walls have a certain rusticity. "I asked the bricklayer to do them very badly, in an English-garden bond, so it would feel like you're in a crumbly old stable," she explains, adding, "There is a bit of trickery and mischief going on." Doors fold away into walls and seem to disappear. And walls give way — if you know where to press — to secret openings.
To the left of a framed Hermès scarf reproducing one of Josef Albers's austere "Homages to the Square," for example, the outline of an aperture is faintly discernible. "We call it the Scooby-Doo door," she says, alluding to the 1970s Hanna-Barbera cartoon in which Shaggy and his dog Scooby would accidentally lean on a wall and it would swing open. In Mackereth's case, the door leads into her dark-wood-paneled bedroom. As the arch-minimalist architect John Pawson has said, there is something "so inventive and quite magical [about her work]. So much thought, intelligence and passion [goes into it]."
And such originality. Take her conversion of a 19th-century coach house in west London for Hosh Ibrahim, an actor turned property developer of Sudanese origin. Access to its garden is via a motorized hydraulic door that pivots up, opening horizontally like a gigantic cat flap. It's tempting to suppose the idea was inspired by Mackereth's cats — named for the artists Bridget Riley and Yayoi Kusama. Their favorite chairs, she says, are a pair of slouchy red Groovy fauteuils designed by Pierre Paulin for Artifort in 1972 — "They love them! They can sit in them as though they're taking part in the conversation and then, when they want to go, just slip out through the hole in the back."
If the ground floor of her own home speaks of openness, with views from almost every room into the house's secluded courtyard gardens, the upstairs feels altogether more private and enclosed. Reached via a staircase from her bedroom, there's a capacious art-filled, wood-lined bathroom that leads into a succession of dressing rooms, walk-in wardrobes and storage spaces, the layout of which calls to mind a multi-compartment bento box writ large. "Like all architects I'm inspired by Japanese design," Mackereth says — though in this instance, she also drew inspiration from the 18th-century German idea of a Wunderkammer. "It's kind of a cabinet of curiosities for the things I collect."
As evidenced throughout the house, her collecting has no particular focus, although Fornasetti is clearly a passion, given his Serpente rug and Architettura bureau-bookcase in the sitting room, his face plates on one of the kitchen walls and the Nuvolette wallpaper in her son's bedroom. Mackereth says she buys what catches her eye. "I certainly don't need any of these things, but when they speak to you . . . And mixing things up can make a space more interesting" — more harmonious, even.
She recalls the doubts she had when she hung a 19th-century Belgian verdure tapestry by the dining table in her kitchen. "I was a bit freaked out because it felt a little bit grown-up," she says, lowering her voice. "And then, I found those ridiculous gold glass cherries." When she hung Nika Zupanc's Cherry lamp for Qeeboo in front, she says, suddenly it all worked.
In light of her overall aesthetic, it comes as no surprise that she counts among her heroes Charlotte Perriand and Eileen Gray (the latter, she notes, "built a great deal of narrative and mechanisms into her interiors"), as well as Gio Ponti and Carlo Scarpa. Like them, she also designs furniture. The malachite-topped brass nightstands in her bedroom are a case in point.
Mackereth mentions as well the "fabulous" Californian modernist architect John Lautner, a pioneer of pivoting doors and the idea that "the inside should flow into the outside," whom she met while a student at London's Architectural Association.
Founded in 2013, her London-headquartered practice, Studio Mackereth, designs buildings from the ground up for commercial clients in locations from New York (the haircare brand Bumble and bumble) to Seoul, where she designed the tasting room for Pernod Ricard's whisky brand Chivas Royal Salute. But it is best known for its inventive conversion of historic structures into one-of-a-kind private residences, like the late-19th-century lighthouse that became her own country house.
It was bought in the hope that it would provide her now-adult children with "a sort of Enid Blyton Five-Go-Mad-in-Norfolk weekend experience," she says, referring to the 1980s television spoof of the famous series of children's books by the British author. The structure formerly belonged to William Lygon, 8th Earl of Beauchamp — "the chap Evelyn Waugh based the character of Bridey on in Brideshead Revisited," she notes. "Apparently it's where he kept his wine."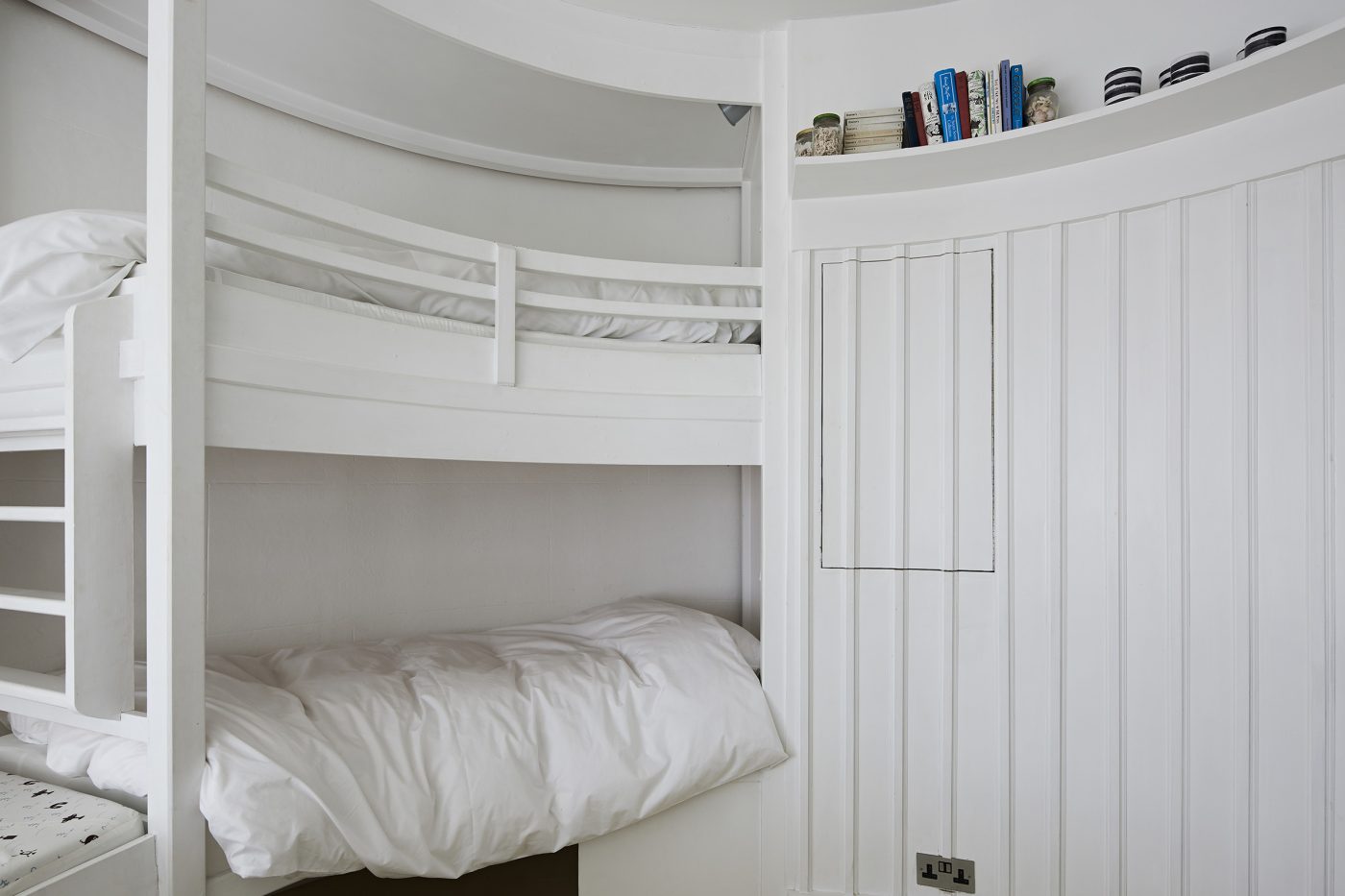 To make the tower habitable, she added a kitchen extension that partially wraps around the outside of the circular base and created a stack of bedrooms within the drum, one with four curved bunks that hug the contours of the walls. The original Fresnel-lens lantern had long ago been sold — it is now part of a working lighthouse in Abaco, in the Bahamas — so in its place she installed a contemporary glass dome with 360-degree views, allowing you, she says, to look both out to sea and "down on the seagulls wheeling around and the seals rolling about on the beach."
Mackereth researches the histories of the projects she takes on for clients with no less enthusiasm. Hired to transform a former artist's studio in Chelsea, she discovered not only that James McNeill Whistler, John Singer Sargent and Augustus John had worked there but that "Oscar Wilde had lived over the road. I remember reading The Portrait of Dorian Gray and getting goose bumps when I realized this was that studio," she says. During Whistler's tenancy, the walls were painted a vivid yellow, a decision another regular visitor, the Prince of Wales (later Edward VII) deplored on the grounds that it was like "being inside an egg." So, Mackereth lined the walls in a pale Venetian-gold cotton satin to create a living space that the British interiors photographer Catherine Gratwicke considers one of "the most dramatic and glamorous interiors" she has ever shot.
"It's less about paying homage than evidencing what's gone on in the past," Mackereth explains. "It's about stitching bits of the story into a new existence." But it is also about conjuring what she calls enchantment. "To me, enchantment is magic and meteorites and lucky black cats. It's Noël Coward and circuses and Surrealism." Because for all the disciplined lines and perfectionist finishes, the pivoting doors and inventive use of hydraulics, her designs have a theatricality, an eclecticism and an admirable absence of preciousness and po-faced orthodoxy. She may insist she's "a modernist at heart," but so curious is her mind and so sharp her magpie eye that for her, designing and furnishing a building "is still an alchemical process."
Sally Mackereth's Quick Picks